Zion National Park is a nature lover's paradise. With its towering red cliffs, lush vegetation, and stunning views, it's no wonder Zion is one of the most popular national parks in the country.
But what about swimming?  Are There Places To Swim In Zion National Park?
In this article, We'll answer that question by highlighting some of the best swimming spots in Zion National Park. Whether you're looking for a refreshing dip after a long hike or a place to cool off on a hot day, you'll find the perfect spot in Zion National Park.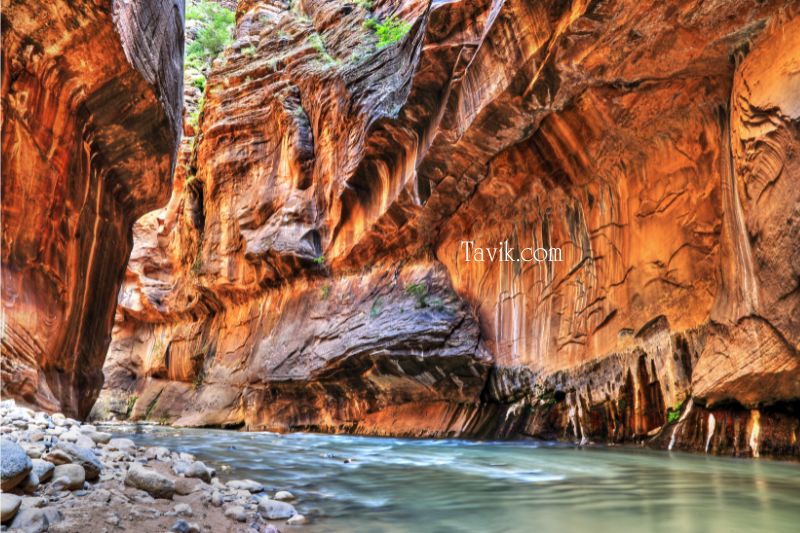 Amazing Facts about Zion National Park
Zion is a Hebrew name meaning 'a refuge or safety.
The park was previously known as Mukuntuweap National Monument before being named Zion in 1919.
Rock paintings date back over 8,000 years.
Due to erosion by the Virgin River, the Zion Canyon continues its expansion and deepening.
Zion is the perfect place for rock climbing enthusiasts. The public is allowed to climb the 2000ft high cliffs.
Zion Canyon is approximately 240 feet deep.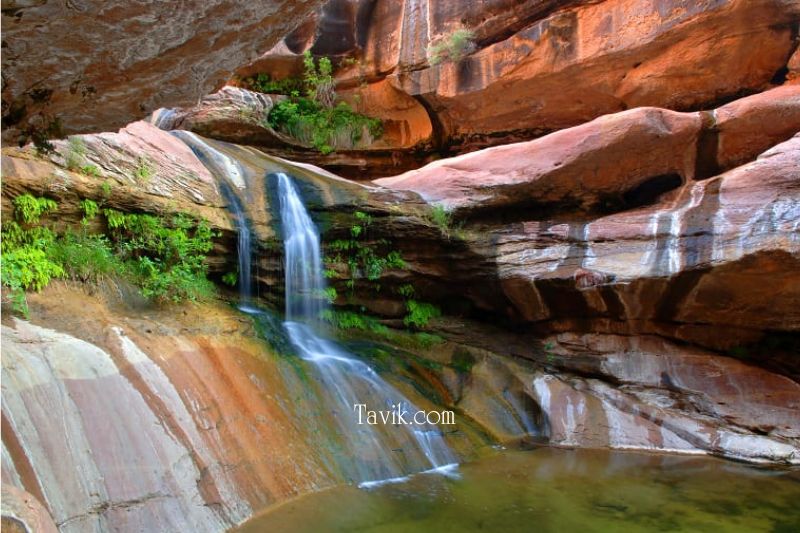 Are There Places To Swim In Zion National Park?
1. Virgin River Swimming Hole
The Virgin River Swimming Hole is probably the most popular spot to swim in Zion. The Virgin River Swimming Hole in Zion was formed when a small dam fell, creating a large swimming pool. The dam's remnants slow down the water and allow swimming.
The water is very shallow above the dam, making it a great place to splash around with younger children. The pool below the dam is still 3-4 ft deep.
This location is near Canyon Junction Shuttle Stop. Follow the signs to the shuttle stop. It's a short walk.
2. Virgin River inside Zion
Although the Virgin River is a relatively shallow, rocky river, there are many other areas where the water can reach depths that allow you to swim near the dam.
You can take the Zion Shuttles or walk along Pa'rus Trail to look out for other swimmers and areas with calmer waters. Do not plunge into the river. The Virgin River has most swimming holes that are 3 to 5 feet deep and have a rocky bottom.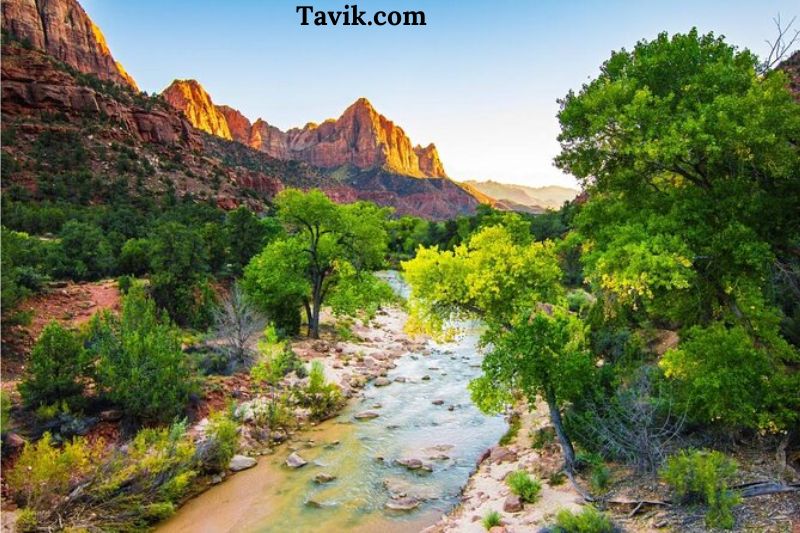 3. Pine Creek Waterfall
Pine Creek is Zion's best swimming spot. A half-mile hike can reach the Zion swimming spot-up Pine Creek Canyon. At the base of the waterfall is a nice swimming area. The water level can make the hike rocky or muddy.
It is difficult to find the trailhead for Pine Creek. Parking is also limited as you travel from Mt. Carmel tunnel to Zion Canyon Scenic Drive.
4. Subway
Subway Canyon is one of the most beautiful canyons in Zion. This narrow canyon is famous for photography and looks almost like a Subway tunnel. Many areas of the canyon have water and are deep enough for swimming.
Subway swimming is difficult because you need a permit to hike/canyoneer there. These permits can only be obtained by applying in advance. You will need climbing gear to complete the Subway hike.
You can also hike up to the top and explore an area of the canyon that doesn't require canyoneering.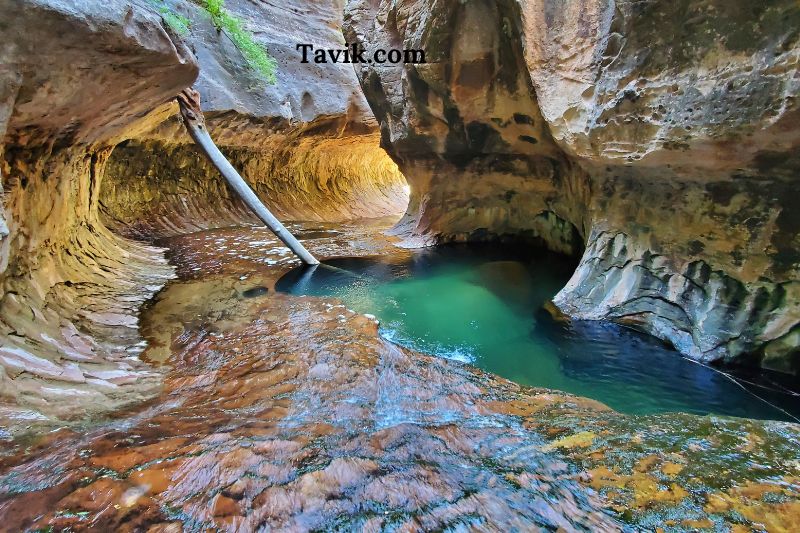 Swimming Places Near Zion National Park
Virgin River outside of the Park
You will need to travel outside Zion National Park to go tubing. You can go tubing in Zion National Park if the Virgin River is not flowing. You can rent or sell tubes to go tubing down the river.
The Virgin River is rocky, so you'll need to be aware of it and work hard to avoid any rocks or other hazards while floating down the river.
Where Swimming is NOT allowed in Zion National Park
Emerald Pools
The Emerald Pools are a group of three natural pools that cascade to one another in Zion Canyon. It is forbidden to swim in or play in the water of these pools. This ban was implemented to protect the natural ecosystem surrounding these pools.
These pools are a popular hike in Zion National Park. There are three options for hiking to reach these pools. The trail to the Lower Emerald Pools is approximately a half-mile long and is paved. The Middle and Upper Emerald Pools require a more strenuous hike, and the elevation goes up.
Please respect the rules, keep away from these pools, and do your bit to conserve them in their natural state.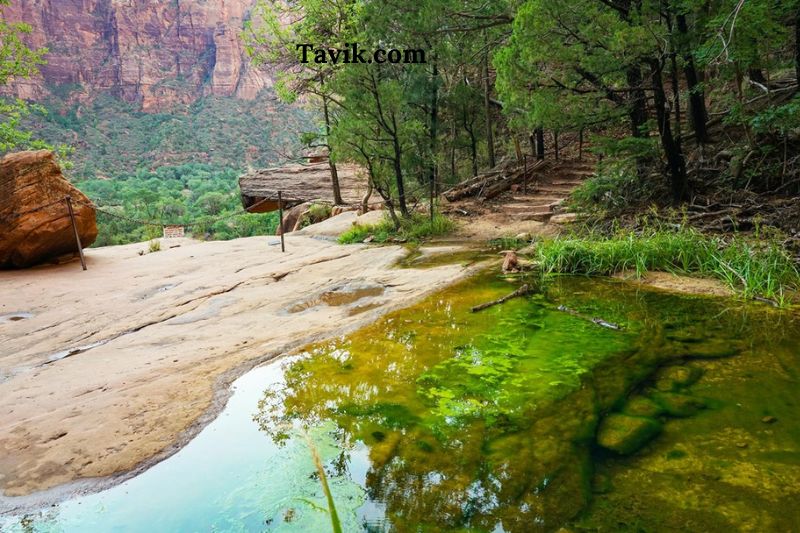 Staying safe while at Zion Swimming Holes
Swimming in any body of water carries inherent risks. These are tips for having a safe and enjoyable time swimming in Zion National Park.
Make sure the water level is checked. The Virgin River is a steep stream and can flow at dangerous speeds at high water. Before swimming, check the water flow rate.
Pay attention to the weather. These swimming holes in Zion are often located in slot canyons, which can be vulnerable to flooding. Any weather warnings issued by the park should be heeded.
At all times, keep an eye on your children. They can drown in a matter of seconds so keep your eyes on them while swimming.
Avoid jumping off rocks. Determining how deep a pool is is complex, and you should avoid diving into it.
10 Can't-Miss Experiences Outside Park Boundaries
1. Sand Hollow State Park – Swimming
Sand Hollow Reservoir offers clear water and red rock diving on a hot day. You will find your ideal swimming spot by exploring the many coves and hidden spots along the shore.
Some trails run around the lake. It also has watercraft rentals and a campground, making it a great base to explore the rest of the area near Zion.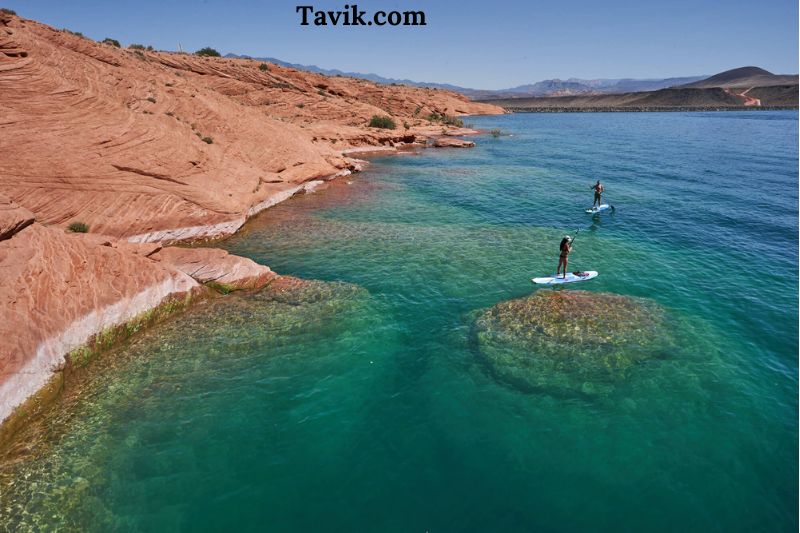 2. Waterfall swimming hole at Toquerville Falls
Toquerville Falls is a place you wouldn't expect to find a desert oasis. Here, a natural stream tumbles over waterfalls that fall into beautiful pools. The surrounding sandstone ledges are ideal for lounging, jumping, and sunbathing.
The falls can be accessed on public land but are not free of charge. However, it is necessary to drive long distances on a 4WD vehicle.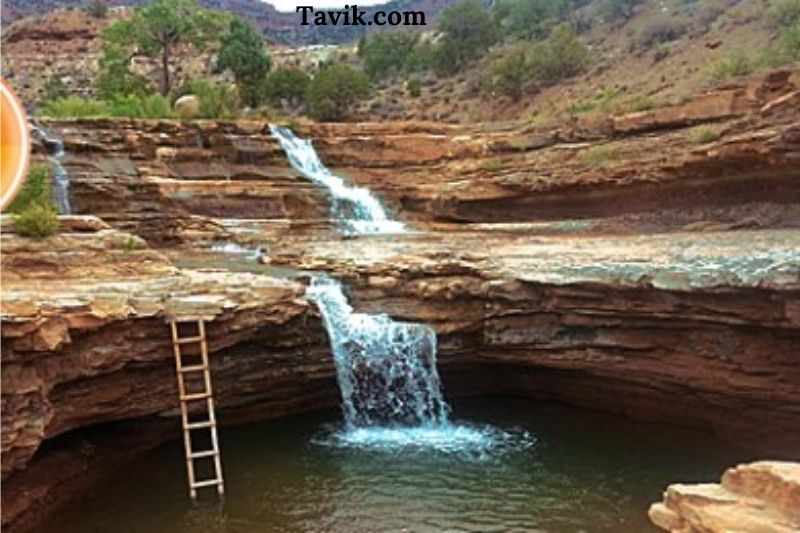 3. Explore History in the Ghost Town of Grafton
Grafton, a ghost town, has been partially restored to provide a glimpse into the lives of its original settlers.
You'll find the remains of the original town of this canyon just outside the Rockville National Park, Utah. Grafton was once a small farming community that existed long before Zion National Park's glory.
People lived in relative anonymity on the land. Many of the buildings have been restored by a historical society. You can now walk among them and experience the quiet part of this valley.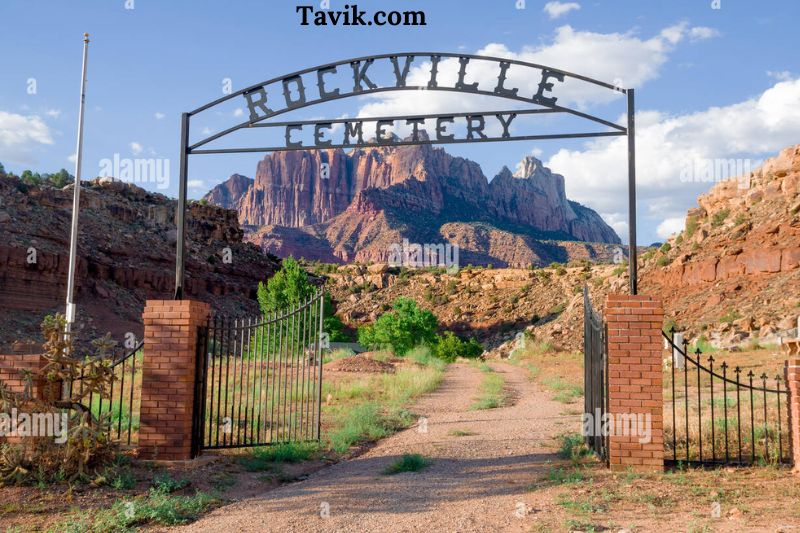 4. Rock climbing in Snow Canyon State Park
Snow Canyon State Park is located just outside of St. George. Here layers of cliffs fold and stack over each other in the style of Neapolitan Ice Cream. The state park offers excellent camping, hiking, biking and camping opportunities.
But it is a unique destination for rock climbers. Bolted routes of varying lengths and difficulty can be found on the colored walls.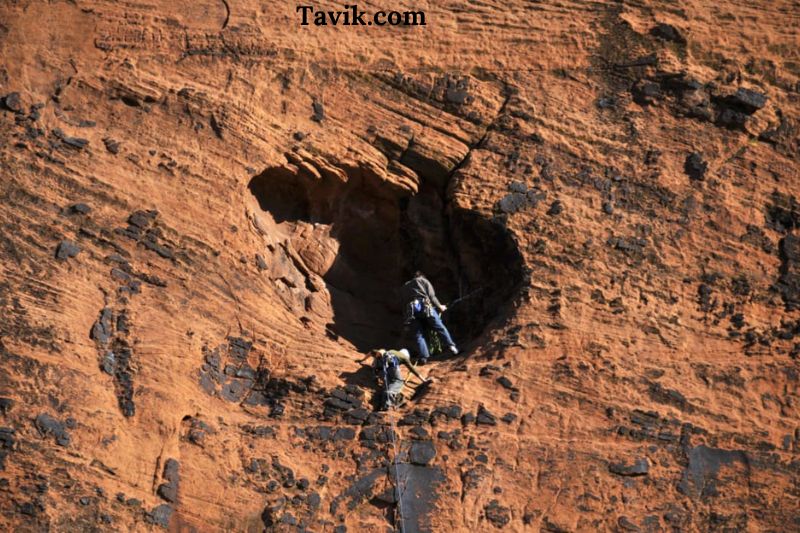 5. Discover the Coral Pink Sand Dunes
The Coral Pink Sand Dunes are a great place to see the full spectrum of desert life. The desert's red rocks are accumulated on these high-rise sand hills. You can drive or hike up the red slopes or camp under the stars. It is like being a child in a huge sandbox.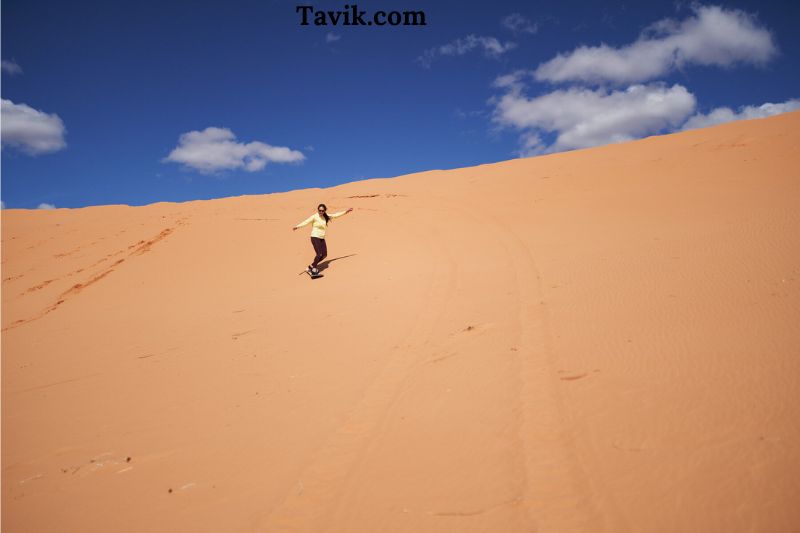 6. Explore the Narrows of Water Canyon by hiking
One of the best reasons to visit Zion is to hike through narrow canyons with flowing water at your feet and towering rocks above. However, similar sights are also found outside the national park. Water Canyon, outside Hildale, is one example.
You can walk for miles through narrow passageways and impressive corridors of stone. This canyon is not as well-known as The Narrows of Zion. However, it is public land and remains under most tourists' radar.
7. Camp out in Dixie National Forest
The vastness of Southern Utah's canyons and mountains is more than just what you find inside Zion National Park. Although much of the wilderness is off-the-beaten-path and more challenging to reach, a little determination can get you into remote solitude.
Dixie National Forest is home to a lot of this unexplored landscape. Finding your camp spot on a fantastic night beneath a million stars in the Dixie National Forest is possible.
It is located to the west and near Cedar City. The forest surrounds Cedar Breaks and is a very reasonable travel distance from Zion National Park.
8. Cedar Breaks National Monument: Cliffs and Bristlecone Pines
Cedar Breaks, a stunning rock formation and high-elevation retreat atop Utah's Grand Staircase, is the tiered landscape's crowning jewel. Bristlecone pines thrive here, which has cool temperatures all year.
Despite their stunted appearance, the trees are among the oldest living organisms on Earth, at thousands of years. Cedar Breaks is a large amphitheater of multicolored Hoodoos that stretches down to a forested valley below.
Although this park is near Zion Canyon and Bryce Canyon, it's often overlooked, but it is well worth the effort.
9. Hiking the Eagle Crags
You can hike from Springdale to a fantastic view of Zion Canyon that is not accessible by park visitors. This view is from Eagle Crags. It's a rocky outcrop facing Zion Canyon's mouth and the park entrance on a hillside.
You can reach it by dirt road from Rockville and then hike a few miles through the desert. You will enjoy expansive views along the route, which improve as you climb. You will see even more canyons to the east from the top viewpoint and a beautiful lake framed below them.
10. Mountain Biking at Gooseberry Mesa
Gooseberry Mesa is another high adventure located near Zion's South Entrance. Here a network of trails runs through wild Slickrock high above a plateau. These trails are suitable for mountain biking but also open to hiking.
This unique terrain is accessible to all skill levels, with various distances and difficulties. The mesa's weatherworn sandstone creates rolling hills, bowls and scoops. There are also sheer cliffs that line the sides of the mesa. These cliffs offer thrilling rim rides with spectacular views.
Although Zion National Park is the name that attracts people to southwest Utah's mountains, there are many other things to discover. You'll discover a unique, often lonely experience that you won't forget if you take a step away from the crowds.
Swimming in Zion National Park at its Best
Zion National Park is accessible all year round, day and night. However, this does not mean that you can swim all year round, 24 hours a day, 7 days a week and 365 days a.
The best time to swim will depend on many factors, including water temperature, surrounding temperatures, water levels and weather hazards.
We will now examine how each season affects the factors above.
1. Summer (May 15-September 15)
Summer temperatures can reach over 1000F, making it a great time to take a dip and cool off. Swimming areas may have low water levels, but the water is attractively warm.
Summer is also the storm season, and Zion is susceptible to flash flooding. This means you shouldn't swim if it is pouring or it looks like it will rain. The weather forecast is available at the Visitor Center each morning.
2. Fall (September 15 – November 1)
The fall decreases water levels and temperatures, which is a big difference from summer. The cold water is less appealing to swim in towards the end of fall and as winter draws near. The weather can change between cold and warm. If you do decide to swim, make sure it is warm enough.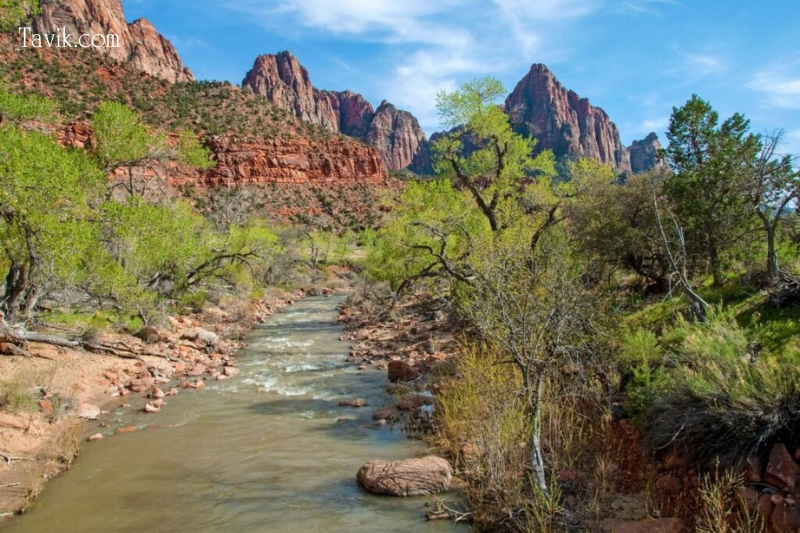 3. Winter (November 1 – March 15)
This is the time when there are fewer visitors. The temperature can drop below freezing. The water can also be very cold. Avoid swimming!
4. Spring (March 15 – May 15)
March and April are the wettest months of the year. Also, the season is characterized by snow melts that can raise the temperature of the water to dangerous levels. Spring is generally not the best season to swim in Zion. However, the water is warmer in the second half.
What is the best time to swim at Zion National Park? Summer and early fall are the best times to swim. Between May and October. You can swim anytime, except in winter when it is freezing.
Conclusion
Zion National Park is a world-famous tourist destination in Southern Utah. The park features beautiful red rock cliffs, canyons, and rivers. Zion is also home to many animals, including bighorn sheep, deer, and mountain lions.
People come from around the world to hike, camp, and photograph Zion National Park. Zion National Park is worth visiting if you're looking for a relaxing place to swim.